Reliable Cats. Dependable Solutions.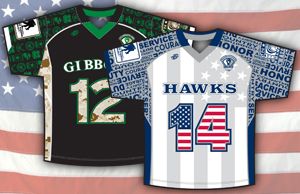 Established in 2003, the Cheetah Group Inc. is a unique branding, marketing and event management firm located in Newport Beach, CA. Utilizing its instinct for survival, combined with a cunning and predatory nature, the Cheetah Group offers a wide range of skills and services to a very unique group of clients.
Wounded Warrior Uniform Designs
The Cheetah Group provided uniform designs to the Stick With Us Organization in Charlotte, North Carolina for its upcoming NC Champions Challenge event to benefit the Wounded Warrior Project.
Surf Storm & Summer Storm Logos Created
The Cheetah Group recently completed a design project for Synapse Sports of Annapolis, Maryland.
CHEETAH GROUP CELEBRATES ITS 10TH HAWAI'I BOWL
The Cheetah Group staff returned to the mainland after working with ESPN and DAKM Enterprises to present the tenth annual Sheraton Hawai'i Bowl at Aloha Stadium on December 24.